Assets of Community Value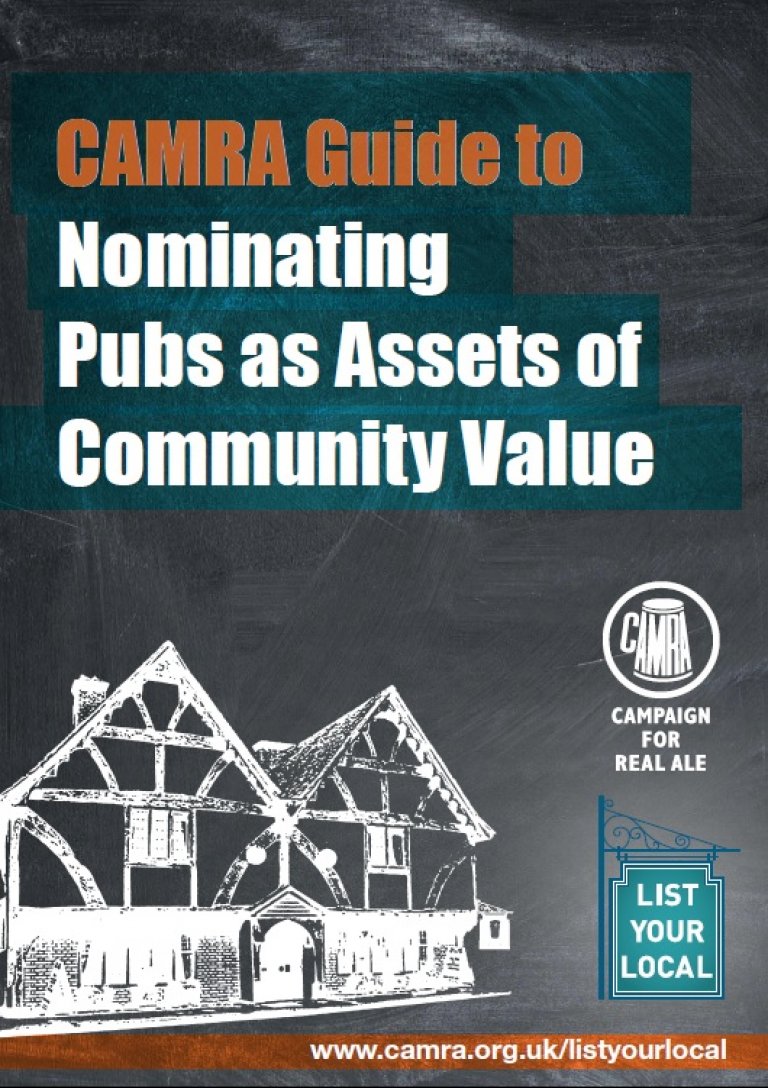 A year since new powers were introduced to protect pubs, the number registered as Assets of Community Value (ACV) is soaring, according to the latest figures from CAMRA. Almost 1,500 are now registered and 300 have been added so far this year. Last year the government announced new protections for pubs listed as ACVs – ensuring that owners have to apply for planning permission should they want to change the use of the building.
CAMRA accepts that not all pubs can be saved from closure, and perhaps not all pubs should be saved. Some pubs are simply not economically viable, e.g. where there is a high concentration of pubs in an area of limited population. In these situations, the pubs which survive will obviously be those which are the most creative and innovative and seek to fully meet the needs of their customers.
Far too many pubs, which are in every way economically viable as pubs, are closing due to the pressure to convert them to some other use, e.g. as residential dwellings, simply because as financial assets these properties have a far greater value as something other than a pub. It is in these cases that registration as an ACV is most critical, since the additional planning protection pubs gain from an ACV nomination ensures that communities get the opportunity to oppose planning applications for change of use.
This is against a background of over 27 pubs across the UK closing every week. One CAMRA branch, Aylesbury Vale and High Wycombe, has registered over 200 pubs as ACVs, and they report that there have subsequently been no pub closures in their branch area since they did this.
The Huntingdonshire branch of CAMRA is committed to protecting pubs and saving them from closure. One way in which we are doing this is to nominate pubs that we think are at risk as Assets of Community Value (ACV). We have created a risk register, and currently (April 2016) there are 13 pubs which are considered to be at a high level of risk, either because they are already closed, or we believe that they are soon going to be closed. The most important part of the ACV nomination are the details of why the pub is a community pub, and contributes to the social well being of the community, which can best be expressed by someone who has actually used the pub. Definition of a Community Pub provides a wide variety of examples of ways in which a pub could be a community pub.
For more help and advice, download a copy of CAMRA's Guide to Nominating Pubs as Assets of Community Value, or go to the National CAMRA webpage for List Your Local.
If you would like to submit a nomination for your local pub, you can do so using a hardcopy Asset of Community Value Nomination Form which you can print out.
Within the Huntingdonshire branch area, the following 17 pubs have been registered as ACVs:
Eight Bells, Abbotsley
Hardwicke Arms, Arrington
Crown Inn, Broughton
Vine, Buckden
Queen Adelaide, Croydon
Rivermill Tavern, Eaton Socon
Cambridgeshire Hunter, Eynesbury
Wheatsheaf, Gamlingay
Crown & Cushion, Great Gransden
Bell, Great Paxton
Three Tuns, Guilden Morden
Royal Oak, Hail Weston
Three Horseshoes, Houghton
Anchor, Little Paxton
Bulls Head, St Neots
Olde Sun, St Neots
Waggon & Horses, Steeple Morden

These pubs can also be viewed on a map